Bequests Establish the Colef Fund
In 2016, the Congregation of Moses in Kalamazoo, Michigan received news that it was the beneficiary of unprecedented bequests from two life-long synagogue members.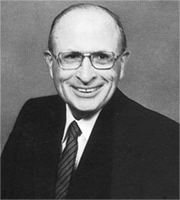 Bequests from the estates of Irving Schensul (1908-2001) and his nephew, Eugene Colef (1926-2016) established the Samuel J. and Mary E. Colef Memorial Fund. Through a fund held in trust by the Kalamazoo Community Foundation, Mr. Colef directed that the Samuel J. and Mary E. Colef Memorial Fund be used to "benefit the needy."
The Board of Directors of the Congregation of Moses established a committee in 2017, the Colef Tzedakah Committee, to determine the distribution of funds from the Colef endowment.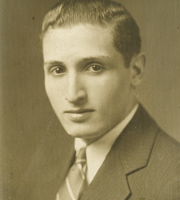 About Mr. Schensul and Mr. Colef
Mr. Schensul was born in Kalamazoo and spent his entire life here. A graduate of Kalamazoo Central, he loved theatre and acted in plays under the direction of Howard Chenery. Mr Schensul received a teaching degree in 1932 from Western Michigan University, though he never taught.
He became involved in the family restaurant and entertainment business alongside his two brothers, who owned and ran The Brown & Gold, a campus restaurant, Schensul's Cafeteria and the adjacent Schensul's Coffee House on Burdick Street. Later, Mr. Schensul worked at WKZO for John Fetzer doing weather, commercials and other types of work.
Eugene Colef was the only surviving child of Samuel Colef and Mary Schensul Colef of Kalamazoo. He had a close relationship with his aunts and uncles, especially Irving Schensul.
Gene attended Parsons Business School and WMU. He cared deeply for the welfare of others, as demonstrated through the trust he left to the Congregation of Moses, stipulating that the income be used "for the benefit of needy people."